"Weak Pillars of Sanity", silencing the drama running into the brain
My doctor walks in,
hands out her gloved limb
tainted with the multicolored silencers
that she wants me to pill-pop
to steady my weak pillars of sanity.
But the voices won't stop tingling
The brain wires won't stop sparking
The inside of my mind is a wreckage;
Empty scattered bottles,
Last week's dirty dishes on the sink,
The hissing that makes my eyes foggy,
Lost in the labour of faked sanity.
I have always been the scary tale
of Kakalabandas in high schools.
When there is no space in the brain
to balance insatiable demands of life
and my weak pillars of sanity.
When I spend all the time
in hospital corridors hiding
writing,
silencing,
the drama that leaves my brain humid
ogling on struggle not to snap out.
I watch the tender eyes of my children
Noticing that I am not like the neighbourhood fathers
Wishing I could hold-up the pretense
To barricade them from sneak-picking into my mind
So, I grab the multicoloured 6 silencers
Push them down the furnace of my throat
With the cool glass of water,
Hoping,
it will cool the sparking wires
silence the tingling voices
and steady the weak pillars of sanity.
[Courtesy of the author]
Link to the Italian translation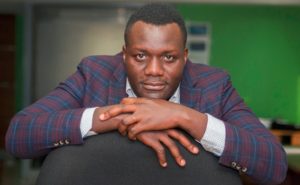 Ronald K Ssekajja is a realist, who doubles as a Technologist (specialising in Digital Transformation, Innovation, as well as Project and Change Management) and a Poet who prides in writing for the everyday man.
Ronald is an author of "Echoes of Tired Men", "Dancing on Broken Lines", "Footsteps of the Kakalabanda" and "Wet Lips" and currently working on the launch of "When Dreams Die" and "Mu BisambiBy'Ebiyiiye" in 2020.
Ronald, who granted to us his poem, is writer and performer of both English and Luganda.
He is a member of the Lantern Meet of Poets, the CEO of Stubborn Poetry (a budding Poetry Label), a member of the FEMRITE Readers, Writers Club. Ronald is a Rotarian, Father and a member of various professional bodies.