Report on mental health and its many misconceptions in Nigeria
There still is a mistaken perception of mental health in Nigeria, as many Nigerians identify drug abuse, sickness of the mind and possession by evil spirits as the three major causes of mental illness.
Scarce knowledge about mental disorders and the fleeting attention given to it, represent a major obstacle to the improvement of mental health in the country.
Through the "Mental Health in Nigeria Survey" a total of 5.315 respondents completed the interviews provided by the Africa Polling Institute (API) in collaboration with EpiAFRIC. Their aim was to help creating awareness on mental health and changing the perception about mental health disorders in Nigeria.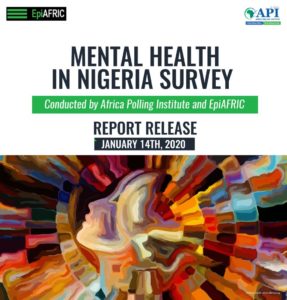 The report reveals that most Nigerians are aware of mental health diseases. However, it appears that they recognize overt signs of mental disorders (for instance, when someone starts running around naked) much more than covert signs.
The survey also discloses that drug abuse is considered to be the most common cause of mental illness (84%). This is followed by sickness of the mind (60%) and possession by evil spirits (54%).
In addition, 32% of the respondents believe that mental health issues run in the family, and lastly, 23% are of the opinion that mental diseases are a result of God's punishment.
The report is available in English here