"Mental 360", in Kenya against youth depression and suicides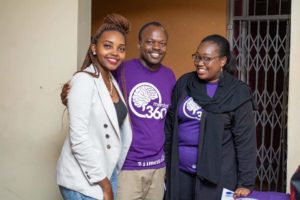 What is Mental 360?
Mental 360 is a youth-led non profit social enterprise that raises awareness on mental health and provides affordable and holistic mental health solutions.
What was the inspiration behind its foundation? Where does the need to create such an NGO come from?
I was inspired by the challenges I went through in search of safe spaces and support in a time of need.
There is a huge information and mental heath care gap in Kenya with little investment by the Government. More than that is the high level of stigma and cost of treatment thereby creating a need for innovative solutions.
Could you please tell us the main objectives and core values?
Our main objectives are:
Foster peer support
Increase access to mental health care
Reduce the stigma on mental illness.
Our core values include:
Dynamic Brotherhood-Sisterhood
Non-discrimination
Integrity
Service to others.
What is the team composition? What are the main attributes of the team members?
The team is comprised of psychologists, program development experts, artists, physical wellness trainers and volunteer mental health advocates. The team members are youthful, passionate and professional.
Which kind of activities take place? Why are they specifically geared for young people?
Our activities revolve around awareness events using the arts, storytelling and experiential learning, physical wellness in yoga and dance, support groups and therapy offered on a sliding scale.
We view young people as the most vulnerable to mental health challenges due to the high exposure to socio-economic inequalities. Moreover when it comes to a highly stigmatized issue, investment on young people has higher returns apart from the fact that young people are the future. It is easier to secure the future than salvage the past.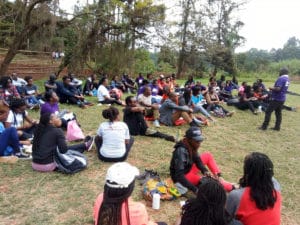 Which common challenges are young people facing in Kenya?
Most common challenges are addiction, depression, anxiety and trauma arising from violence all compounded by lack of financial resources and underemployment.
Do you know the suicide rates in young people in Kenya and why they're increasing? Has Mental 360 helped reduce them?
It is estimated that we have at least 311 suicides per year. For every successful suicide there are approximately 20 attempts. All this in an environment where suicide is glaringly under-reported due to the stigma associated with it and poor data collection systems in the health care sector.
We have been able to offer psychological first aid via our helpline 0770360360 where 60% of those reaching out have had suicide or suicide ideation and 5000 physical therapy sessions.
How do art and creativity help prevent mental illness and emotional trauma?
Art is a form of healing for the artist and for the user. It is a huge coping mechanism for those experiencing mental health challenges by providing emotional healing. Studies have shown that art helps people dealing with depression and anxiety by promoting well-being and creating a space for social connection.
Are there other NGOs with the same mission in Kenya or other African countries?
Yes.
Which are the main obstacles in running your activities?
The main obstacles are financial resources, social stigma and the law.
In a campaign for awareness that is centered not just on the beneficiaries but the wider society, mental health work does need a lot of resources. For solutions to be sustainable they need to be holistic i.e you can not raise awareness and fail to provide affordable and accessible care. And you can not provide care to people that are not aware, sending beneficiaries back to a society that stigmatizes them.
Social stigma is a big hindrance that discourages many from reaching out for support and many others from accessing care. We have seen cases of parents of minors or people in relationships with a power imbalance being prevented from support by those in control.
The law does not recognise mental illness to the extent that can be seen to be progressive. Suicide is a crime in Kenya while for many it is a symptom of challenges within. Putting someone in jail only exacerbates the situation. There are no legal requirements for investment in mental health leading to a minute percentage of the budget being directed towards mental health institutions.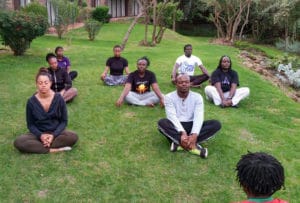 What do you think has been your biggest accomplishment(s) so far?
Our biggest accomplishment is in the daily effort we have made in offering psycho-social support. Each person that reaches us and is able to be transformed counts as the biggest reward for the work we do.
What are your future goals?
Our future goal is to mainstream the mental health conversation by making resources attractive, affordable and accessible to every Kenyan. We are already going towards achieving this after developing a digital app/web-based platform called Boma via the Facebook Accelerator Program 2020. The vision is to make this tool reach the whole continent providing solutions at the touch of a button.
Link to the Italian version