"My mother's depression", inherited on the night of the blood moon
I inherited my mother's
depression on the
night of the blood moon.
Broken pots, and shredded
pieces of kitenge littered
the old swamp.
The naming ceremony
was swift.
Branded on the chest.
I wore the mark of struggle
that mama blatantly
dismissed.
Bore the anguish that
always left mud at the
front porch.
I wear my Mama's depression
like sexy lingerie.
Eyebrows drawn in a scowl.
Pouty lips that could saunter
a hiss.
Perched at the end of the bed.
I am a hawk in training.
Waiting on waragi tainted breaths,
and Siberian arms.
Sportsman cigarettes
dubbed lips and rubber
smeared skin accumulated
from wavering women.
Disrespectful tongue, and
a rough language.
Scathing words from my bone.
Fists too fast to start a
street fight.
Raging emotions.
Unfiltered thoughts.
Take the beating!
Mama endured.
Mama's depression snuggles
up with scepters of my
embattled conscience.
Invites the little girl inside
to play kwepena on the street.
And slices my thighs
on the altar of deception
as a sacrificial lamb.
Entombs love in the
catacombs of paranoia.
And leaves relics behind.
Jeers at the wind as millet
dries on the verandah.
Calls out the sun in
protest as the day drags
and hours start to create
tension between her thighs.
I inherited my Mama's
depression on the day I
decided I wanted
a man like my father.
*********
[Courtesy of the author]
Link to the Italian translation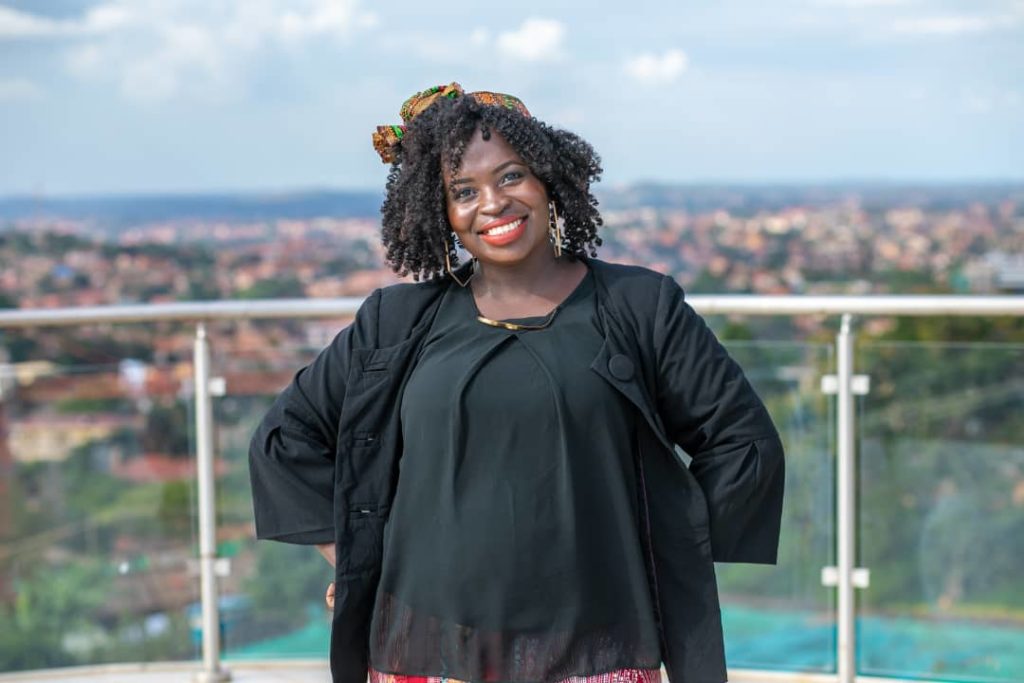 Carolyne M. Acen (Afroetry) is a Ugandan Spoken word poet, writer and counselor. She currently manages Echo Minds Poets, a group of sette female poets dedicated to bringing women's stories to the stage in a theatrical production. She is the poet laureate of WomanwordsLiterally Press.
In 2017 she was shortlisted for the "Haiku Africa Competition" and competed in the "East Africa Poetic Hour" competition in Kisumu, Kenya in 2018.
Her poetry has been published in poetry magazines. Her sterling performances have been featured at grandiose events at FemriteUganda, the international project AfroWomenPoetry, 2019 Women's day special at sanyu FM radio, Kampala, Refugee and Hope International organization, Uganda, Afro Poetry project at Goethe Zentrum, Kampala, Ntebeza (A night of heartbeats and poetry), Echo minds poetry show She4She(celebration of women and their stories) at the National theatre, Evoke Midnight Drum, Kwivuga, Tontoma Women's day poetry performance at Sheraton Kampala Hotel, Poetry over Bigotry at Mbale, and the Grande Poets debate in February last year.
She is currently working on her first poetry collection.