"Dispatch from Ward C", those wounded words in a hospital room
i
On Tuesday
you wake
walk the back stairs to find a bird
half dead and thrashing
stunned by its own purpose
You count the split wing
the muffled heart—
smallest of all seeds
ii
The corridors are the loudest
an artery of wailing
what nicks the heart
drawn tight across all things?
iii
I've known rage
the height of a woman
the cloying scent of relaxer
holds the strongest memory
the sweet scabbing
the hairdresser's instructions:
'Let me know when it starts to burn'
iv
I think often of your world
the quotidian washing
the nightly mewling of the street cat
the sun-blind luck of ordinary days
v
My old roommate had a razor blade
secreted in her bra
What had the years been to her?
She read her Bible nightly
Repeated the words:
'burn for burn, wound for wound, bruise for bruise'
vi
There are rules
'No hookups'
I dream of scarred fingers
and stonewashed linen
Summering at the window
How mere touch
is abundance in the lack
vii
The doctor asks if I know anything of
'intergenerational trauma'
I think of my grandmother
thirteen and wed
the chicken coup in
red earth
the kneaded dough of girl-limbs
the clutch of a doll in one arm
a baby in the other
viii
They all want to know
what I'll do when I'm 'out there'
God with me: I'll die, and I'll return;
I'll wound, and I'll be wounded
I'll swallow the white throat of fear.
******
Courtesy of the author
Link to the Italian translation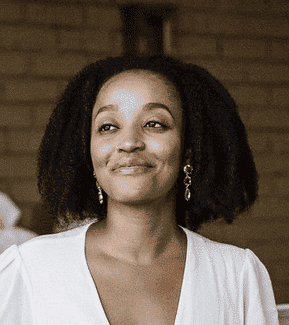 Sarah Lubala is a Congolese-born, South Africa-based writer. Her family fled the Democratic Republic of Congo two decades ago amidst political unrest. They relocated first to South Africa, then the Ivory Coast, before returning to South Africa and settling in Johannesburg.
She has been twice shortlisted for the Gerald Kraak Award, and once for The Brittle Paper Poetry Award, as well as longlisted for the Sol Plaatje EU Poetry Award. She is also the winner of the Castello Di Duino XIV prize. Her work has been published in the Mail & Guardian, The Daily Vox, Brittle Paper, Apogee Journal, Entropy, and elsewhere.
Her debut collection published in 2022, A History of Disappearance, contains 37 poems and photographs by Julien Harneis, Bill Wegener, and others. Some of the themes addressed in the anthology include forced migration, displacement, xenophobia, gender, sexual violence, mental illness, memory, and remembering.