Tender Arts Nigeria: music, theatre and painting inside hospitals
In the last few years, various researches have shown that art in all its forms can be a great support for people living with disabilities or mental health disorders. It helps easing anxiety, stress and depression for both patients and care givers and it easily adapts to any social context. Thanks to art, patients are able to communicate through the creation of images, objects, short plays and much more, instead of just using words and sentences.
Art therapy and all the activities involving art are relatively new in African healthcare services. Lately, there has been an increase in the number of programs that offer this kind of activities both within hospitals and communities. We have discovered Tender Arts Nigeria that has been working in this field for 7 years trying to bring smiles and joy inside the hospitals of the region.
Kunle Adewale, the founder of Tender Arts Nigeria, with over a decade of experience as an artist and an educator, explained us which are the main projects, the objectives and the results achieved to date.
What is Tender Arts Foundation?
Tender Arts Nigeria is a social enterprise and a non-profit making organization established in 2013 whose aim is to promote art in all its various forms within health care facilities in Nigeria and other African countries. Since 2013 we have been facilitating several art projects for children and young adults in Nigeria, West Africa and South Africa. Among them: Children Living with Cancer Foundation Nigeria, Sickle Cell Foundation Nigeria, Down syndrome Foundation Nigeria, Westbury Youth Centre South Africa, Special Correctional Centre For Girls and young persons with Autism.
Tender Arts Nigeria collaborates with local and international organizations, NGO's, private and public educational institutions, hospitals, healthcare centers and faith-based agencies.
Some of our community-based projects have been supported by the US Department of State, the US Consulate Lagos, and endorsed by local and international foundations.
How the idea of founding Arts in Medicine Africa was born? What are the main objectives?
The idea of founding Arts in Medicine Projects in Africa was born when I returned from the United States after a 9-week exposure to learning and professional tutelage in arts and civic engagements at Tulane University in New Orleans.  In 2015, as a fellow in "The Mandela Washington Fellowship for Young African Leaders", I had the privilege of interacting and connecting with thought leaders on Art Therapy, Arts in Medicine and Arts in Health programming in the United States. All of this exposure and awareness ignited the passion in me to scale up the program we were already doing in Nigeria. So, the therapeutic part of our program in Tender Arts Nigeria metamorphosed into Arts in Medicine Projects. 
What kind of activities take place in Nigeria?
We facilitate different activities in healthcare spaces, hospitals, hospices and in the community. For example, thanks to the Hospital Mural Projects, we make murals in healthcare spaces as Pediatric oncology, Psychiatric hospitals and Mental health spaces. We transform plain walls in the hospitals into living and therapeutic walls with images of nature and superhero characters to inspire hope, healing and happiness for patients, caregivers and healthcare providers. We also facilitate music in health to give a smile to all the people living and working in the hospital.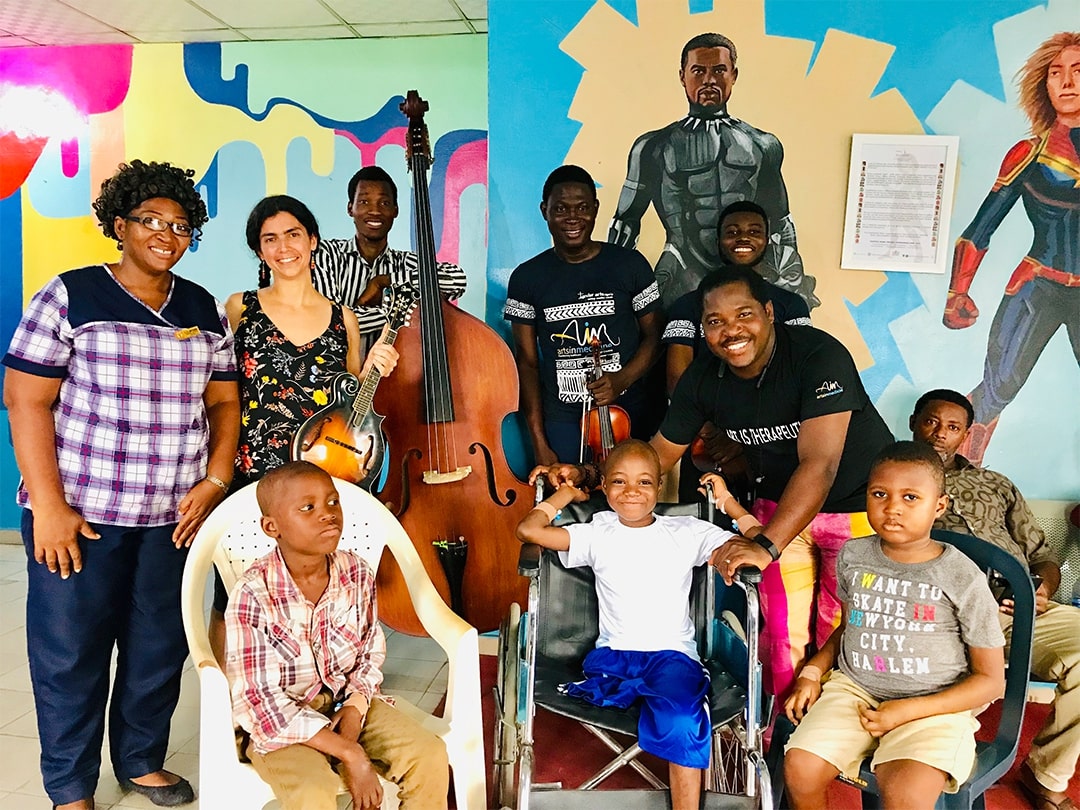 What is the Arts in Medicine Fellowship?
The Arts in Medicine Fellowship is one of the integral parts of our project and a non-profit branch of Tender Arts Nigeria. We focus on medical humanities, seek to promote art engagements to alleviate the pains of individuals and improve the overall health of patients, families and caregivers. Thanks to the Arts in Medicine Fellowship we provide education, awareness, research, and practical interventions through the arts, trying to create a safe space for all those who might need it. We believe that being in good health is a precondition inextricably linked to the achievement of the Third Sustainable Development Goal about Good Health and Well-being, one of the 17 goals part of the Agenda 2030 for sustainable development set by the UN General Assembly in September 2015.
The Arts in Medicine Fellowship is currently the largest Arts in Health Network in the continent of Africa with a membership of 300 fellows. After running this as a pilot project for three consequent years, we decided to extend the program to the entire African continent in order to reach other students and workers interested in this field. We are expecting about 200 new additional members in the years 2020/2021.
The Arts in Medicine Project is currently implemented in over 8 States in Nigeria, encompassing the Federal Capital Territory Abuja, Ebonyi, Cross Rivers, Oyo, Ogun, Osun, Edo and Lagos States; as well as some African countries such as Tanzania, Botswana, Uganda, Ethiopia, Cameroon, Namibia, Zimbabwe; and India.
Why is it so important to use different forms of artistic expression in the healthcare space?
The use of different forms of artistic expression is a reflection of how our program is tailored specifically to the patient's personal experience. While we present a wide range of artistic engagements, patients have the power to choose what works best for their social and emotional well-being. This has really helped in achieving great health outcomes particularly in elevating their moods, reducing stress and depression. We utilize dance, music, writing, painting, drawing, crafting and other art techniques to help patients find joy, hope and healing in healthcare spaces in Nigeria.
How does art therapy in connection with mental health problems work?
I often tell people that we do not run art therapy programs but Arts in Health or Arts in Hospital initiatives because we do not have trained art therapists as facilitators.
Our Arts in Health programs are implemented in both child and adult Psychiatry. As an organization, we partner with the Federal Neuro-Psychiatric Hospital and Child and Adolescent Mental Health Service center in Lagos Nigeria. Most of the patients that we work with in this facility are involved in substance abuse while those at the child and adolescent mental health space are living with autism, down syndrome, cerebral palsy and other neurological disabilities.
We also facilitate arts session for older adults living with Alzheimer's disease and other cognitive impairments in Nigeria. We partner with GABI Williams Alzheimer's Foundation and other care homes. The age bracket of our participants in this program is 60+.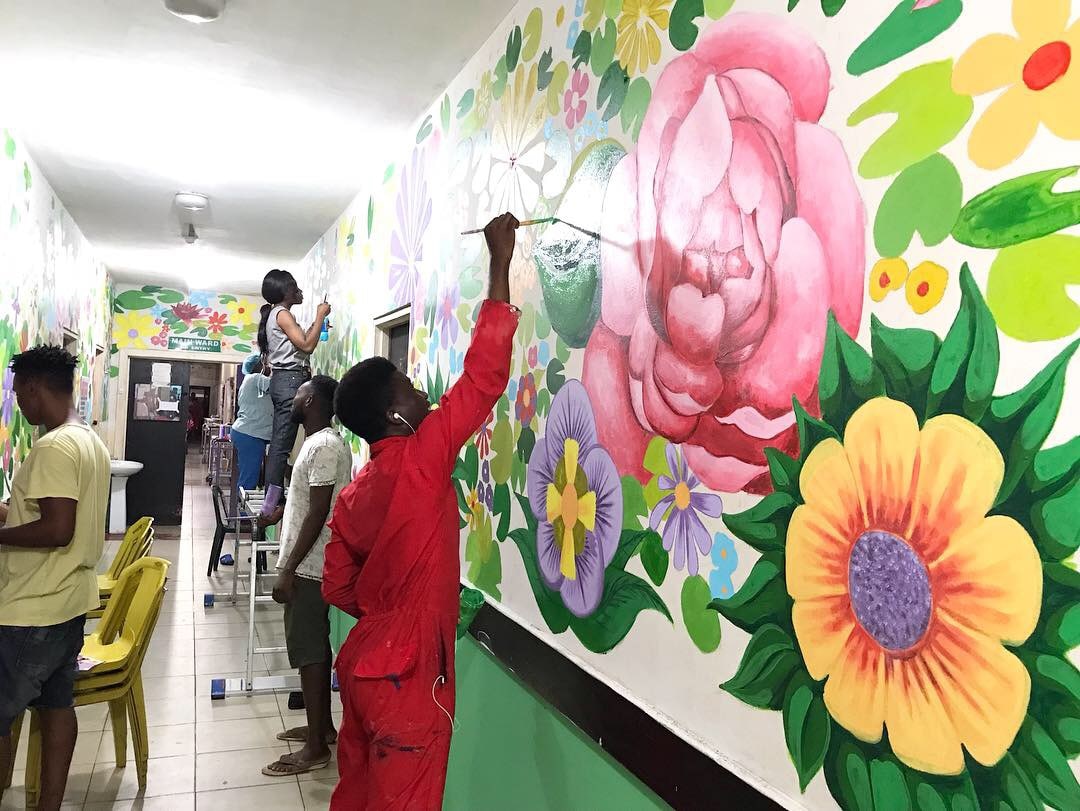 Could you please give us an example of how the program works?
As already mentioned, our programs are addressed to all people with disabilities or mental health problems, regardless of their age. We provide various activities and our aim is to improve patients' social interactions and well-being, as well as to increase patients' quality of life. We also noticed that during the activities, rather than thinking about social isolation and loneliness, patients reconnect to their humanity and interact well with other patients, their caregivers and healthcare providers.
For the youngest we offer activities related to music, handicrafts, murals, drawings and paintings by providing pastels, watercolors and sheets of paper on which they can give free rein to their imagination.
For older adults living with Alzheimer's disease and other forms of dementia we facilitate collaborative art projects.
Which are the main obstacles in running these activities?
Funding is the major challenge for us, and the reason why some of our art programs in Nigeria and other African countries are slow-moving compared to our expectation. Our program runs on volunteerism, and this makes it even harder for us to expand and scale up the impacts of our works.
We are grateful to the US Department of State, United States Mission to Nigeria, TIDE Foundation San Francisco, System Specs Nigeria and other donors who have supported our works to the shape it is today.
What is the best success of Arts in Medicine Africa? And of Tender Arts Foundation?
We don't really have the best success yet but I can share our current status and achievements so far as an organization with limited resources in Africa. As said earlier on, through Arts in Medicine in Africa and Tender Arts Foundation, we founded the Arts in Medicine Fellowship which is currently the largest Arts in Health Network in the continent of Africa with a membership of 300 fellows.
Some of our Arts in Medicine Fellows have won local and international fellowship awards which place them on the pedestal of leadership and changemakers around the globe. Over 15,000 people have benefited from our therapeutic art engagements in the space of 7 years and there is an increasing demand for the establishment of Art-based interventions in hospitals, hospices, healthcare centers and communities.
In May 2020, we hosted the first International Virtual Arts in Health Conference in the United States with over 37 countries in the world represented and over 100 participants. The Conference's theme was "Arts in Global Health Crisis: COVID19″. 
Again in 2020, we hosted virtual therapeutic art sessions and art exhibitions to celebrate World Mental Health Day.
We have continued to partner with diplomatic missions, international NGOs to fund our art programs and make the world a better and more inclusive place.