"I am a refugee in my mind", when the sense of belonging is lost
The house flies in my head
keep buzzing and never fade.
Monotones, weighing my head like a rock.
Solo tunes, duos but all dirges.
I am a refugee in my mind.
I am a refugee in my mind.
The house flies go to and fro.
From their places of feast,
some carry loads of loneliness
constantly ringing head-aching bells
to remind me how I don't belong here.
Today is not my day.
Yesterday wasn't.
Tomorrow won't most certainly.
Another buzz reminds.
Where do I belong?
Some house flies flap their wings
Tormenting my school of thoughts.
What does the future hold?
Like the sun, is mine that bold?
Or like the moon.
Maybe my future will be full of gloom.
Or flower roses BLOOM.
My mind is now on a pendulum Bob
Today is infested.
Women and children are crying
Men are giving up on trying
Few are tested
The test is for wounds on the outside.
But the wounds on the inside
cut deeper than the sea.
We discharge an incomplete healed.
We need one another
To talk and feel each other
To listen and heal as we gather.
The buzz …
*********
[Courtesy of the author]
Link to the Italian translation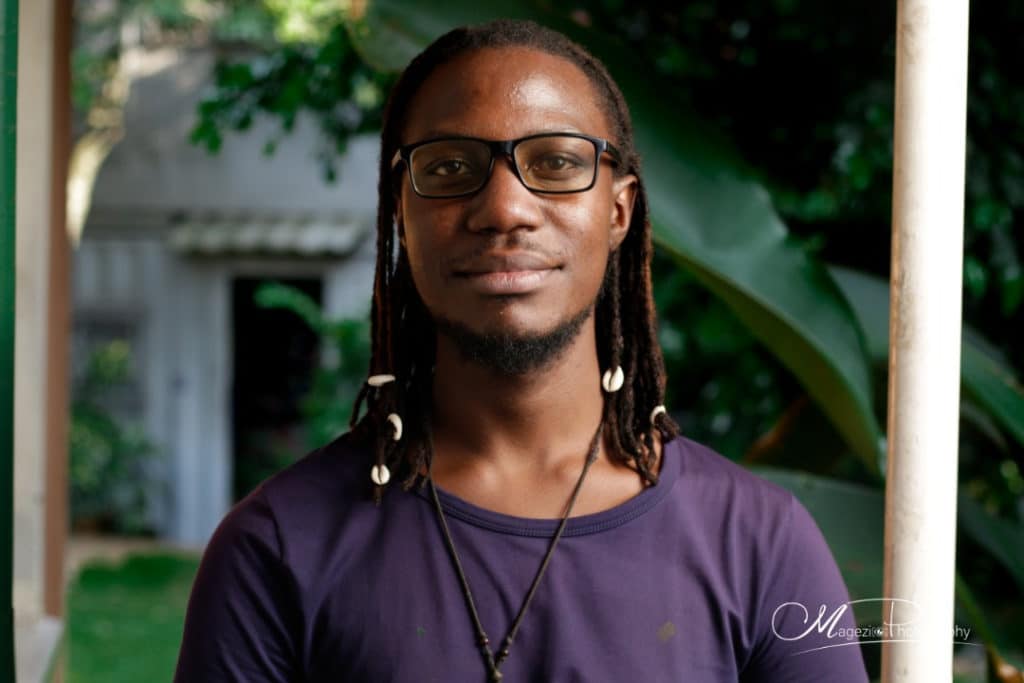 Alex Kitaka was born in Uganda. He is a Creative Facilitator, Playwright, Poet and an Actor. Creative Director at Nsenene Voice Uganda, an NGO that uses theatre, poetry and story telling to create cultural awareness and self-discovery.
He is currently the Lead Consultant for Performing Arts at Oxfam Uganda under the WASH project (Water and Sanitation hygiene) and Vice President of International African Writers Association. Alex is actor radio play at KAB Media, contributor at Tuck Magazine and Thurst Magazine, he is also co-founder of Tontoma Poetry session. Moreover he is in his final year at Makerere University in Kampala studying Performing Arts and Film. Wakavulu is Alex's blog.
To our question about why he writes (among other subjetcs) on mental health he answered: "I feel that mental health is one of the issues that is given less or no attention at all yet when you around you. It is one of those issues that remain to deeply affect the lives of people and at the worst and has led to a biggest percentage of suicide. With writing, I believe I give a voice and create a platform for conversations, expressions, and realization that the silence can be broken". He also added: "I as well believe, with writing, it creates a much more safer place to let out and let go of feelings that endanger someone's mental health. Like always, Writing is a therapy!"