Ghana: Botsyo, the paralympic athlete who defied the stigma
Raphael Botsyo Nkegbe, who will turn 40 in July, is a Ghanaian para-athlete. He lives in Sunyani, in the Bono region. He contracted polio when he was five: his life then became very different from that of his playmates. His parents always encouraged and supported him – they reacted with enthusiasm when young Raphy, as his friends call him, began to show some interest in sport.
And so in sport, as an amateur first and as a professional later, Raphy found his own way to express all his potential and the determination to fight for success. And his achievements, both on national and international level, are several: he won the gold metal in the 42 km OCC Marathon in South Africa last year and again in February this year. Moreover, he has qualified for Tokyo 2020 Paralympic Games (postponed to 2021 due to the pandemic outbreak).
We interviewed him through WhatsApp calls in between training sessions.
Tell us three adjectives/words to define yourself
Role model, inspiration, a voice for the voiceless.
When did you start to practice sport and wheelchair racing?
I started wheelchair basketball in 1993 and para-athletics in 2001.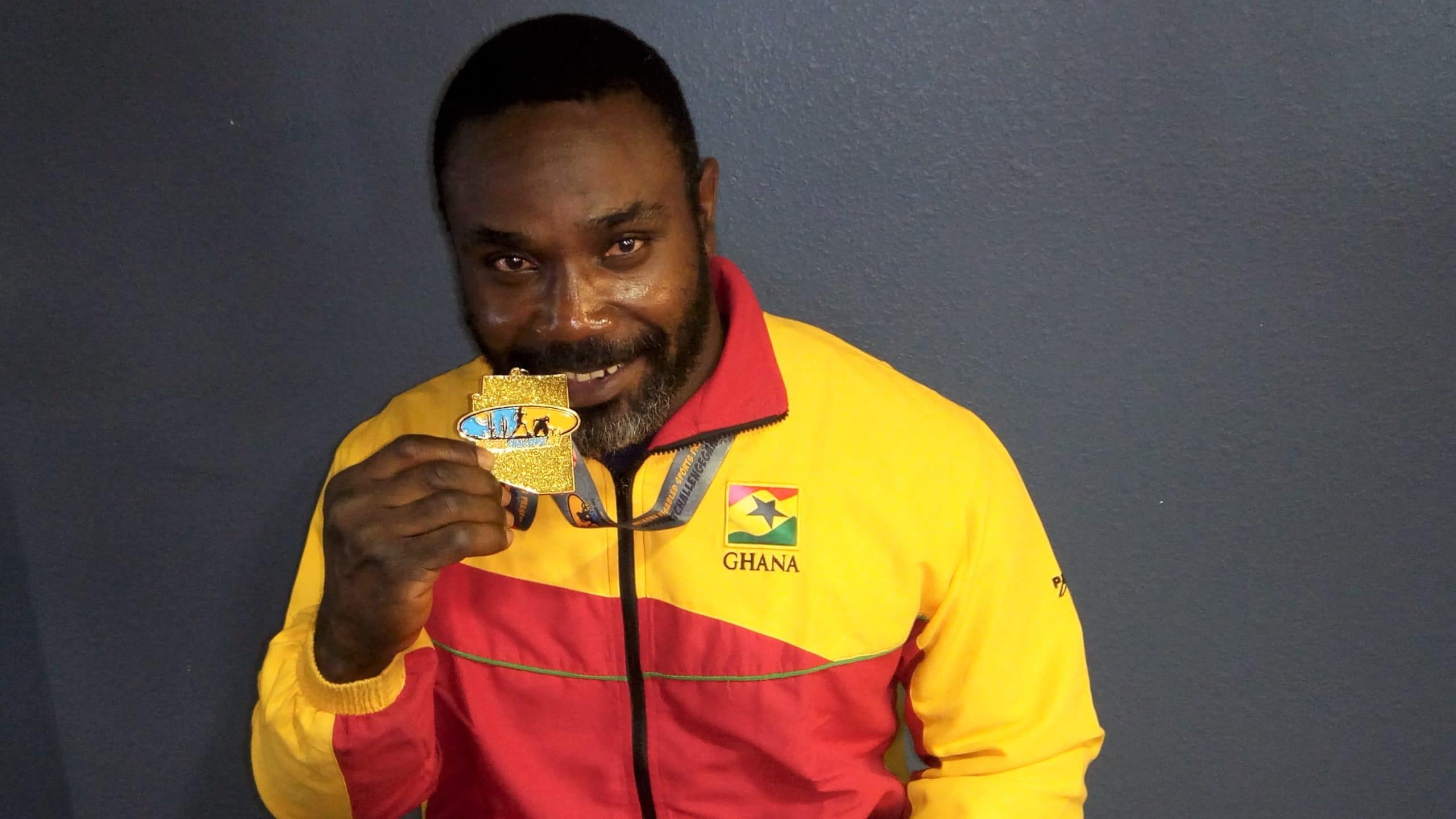 How hard was it to start your sport career?
I went through the stigma of discrimination. At the time in Ghana there weren't many wheelchairs for basketball. Actually there weren't many people interested in sport; at the time, we were just five. As I went on, and my experience turned into a career, the hardest part was to find funds to buy a racing wheelchair or tickets to take part in competitions and qualifications abroad. The lack of sponsors was a major challenge.
What struggles did you have to go through in your life with regard to disability?
A disabled person goes through discrimination and social stigma every day. I was often excluded, for example by other kids who played together and didn't let me join them and let me do only what they thought I could do in my situation. In this way, they didn't give me the chance to challenge myself, which is something I could do and wanted to do.
In your country, how do people and society deal with disability? 
Some think that disabled people have been the target of an evil curse, while others regard disability as a disgrace and a pointless burden for the family.
How did the perception of disabilities in your country affect your life, if it did?
It certainly affected my life as I had no self-confidence growing up. Luckily, mine was a religious family and my parents always treated me and my sisters the same way. Although we weren't wealthy, we always had the most precious things of all: love and respect.
Can you tell us about the Go Get Dem Wheelchair Racing Club? And how many clubs are there in Ghana for athletes with disabilities?
I had this idea of founding a club for young disabled people and promising athletes and I wanted to promote the creation of other Centres for people with disabilities in my country. The Go Get Dem Club has been the first club in Ghana, and now there are five more.
How many athletes with disabilities are there in Ghana? In which sports do they excell?
In Ghana there are a little more than 350 athletes with disabilities. About 250 (men and women) practise wheelchair basketball and racing. 20 play tennis and then there are 7 clubs including 100 amputee soccer players. Very few are into athletics.
How many hours a day do you workout?
I train two hours a day, every day.
Do you remember your first medal? How did you feel?
I won my first medal in 2007 at the 9th All-Africa Games in Algeria; it was the first time I won a silver medal for my country. I was so excited to be among the medal winners that year, I will never forget that feeling.
In Ghana you can see many people (even young people) with disabilities begging on the streets. Can sport help them? Is there a chance for them too? Can your life and your achievements be an inspiration for them?
Sport is one of the most powerful tools to bring change in one's life as it modifies the perception of disability and people with disabilities. Sport encourages people to keep going. Today I can say I represent a role model for them, a motivating force.
What is the achievement you are proudest of?
Representing my country in the three Paralympic Games: Athens in 2004, Beijing in 2008, London in 2012.
Can you remind us what records did you break in racing?
In the Desert Challenge Games in Arizona, USA, I broke the African 100 metres T54 record and I also set my personal best time, 14.22s.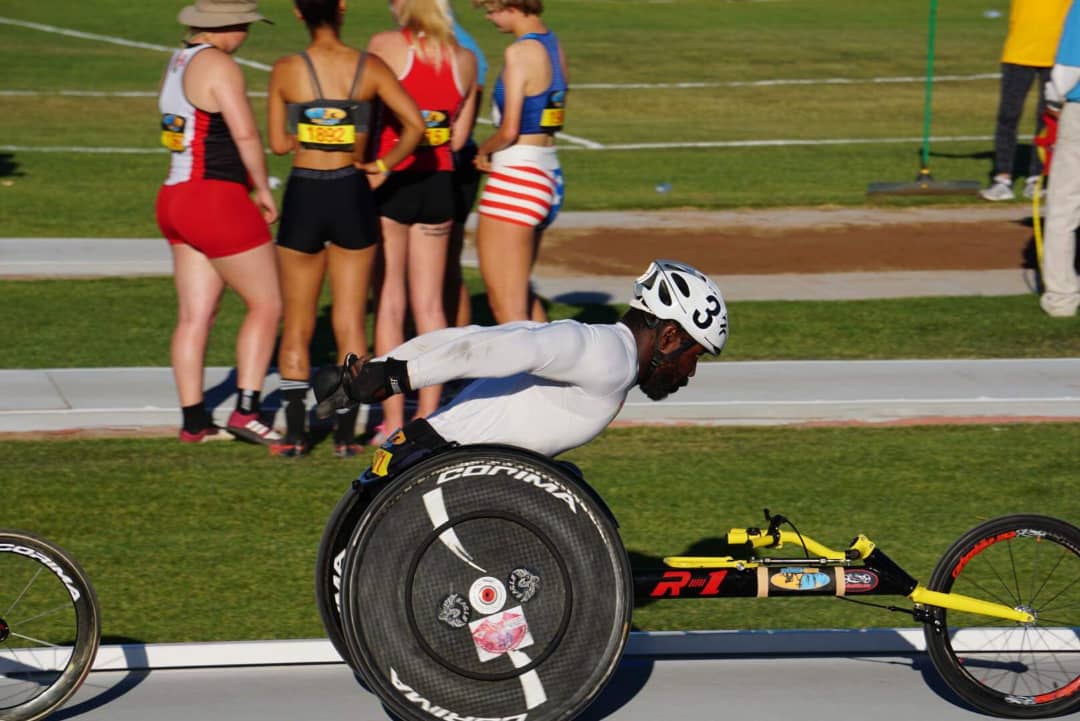 Indeed, during the World Para Athletics Grand Prix in Arizona, USA you qualified for Tokyo Paralympic Games that were then postponed to 2021. Are you looking forward to it?
Yes, it will be a dream come true for me to represent my country once again on the world's stage.
You took part in 3 Paralympic Games.  What is the most important thing you learnt from these experiences?
The most important thing was to learn how others coaches treat their athletes.
What do you mean?
I saw coaches treat their athletes with respect and nurture their talent, you could tell they were very important for them. My background is a hard one, it is difficult to find someone who will devote his/her time to you and your training, probably without making any money out of it. Seeing coaches and athletes have a different type of relationship helped me a lot. It prompted me to talk with my coach and other athletes like me. I told them: we are athletes and we have to be treated as such, we deserve respect.
What is the message you'd like to share with our readers?
My message is one and it's very simple: people with disabilities should be offered the same opportunities as anyone else.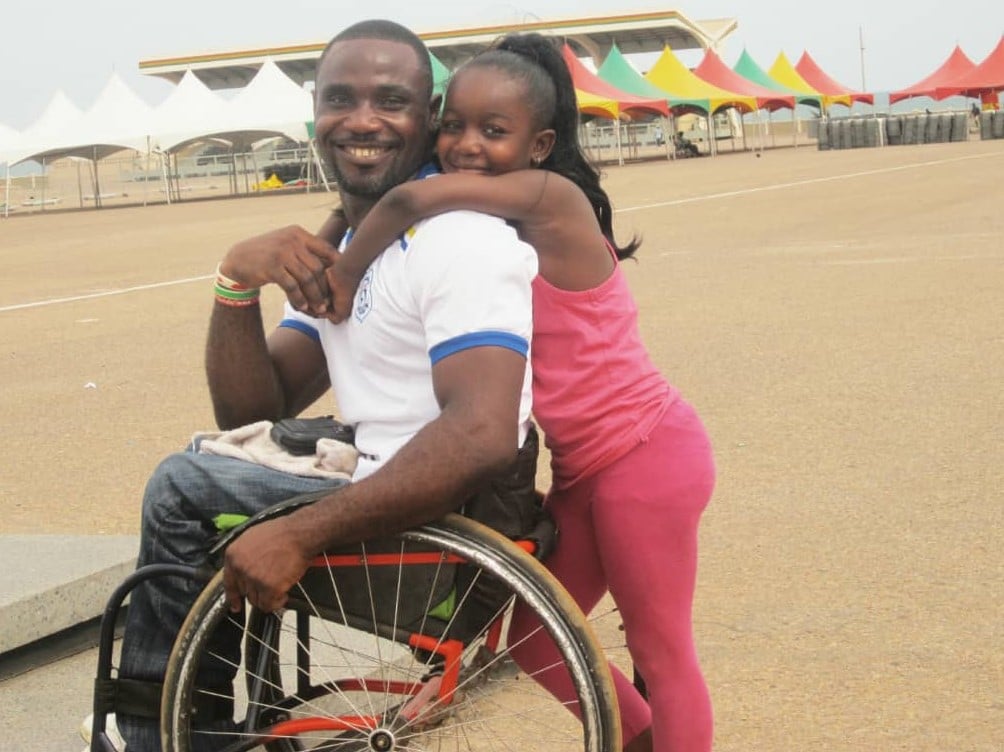 Raphy, you are married to Amdiatu Issaka, who also plays wheelchair basketball. And you have three beautiful children together.
This one in particular has been a real challenge. We wanted to change the way most of the people think here in Ghana and perhaps everywhere in Africa; people tend to think that a couple with disabilities will have disabled children. Instead… We had Kelly who is now 15, then Raphael – named after me – and little Paul.
Link to the Italian version
[Translation from Italian by Gaia Resta]